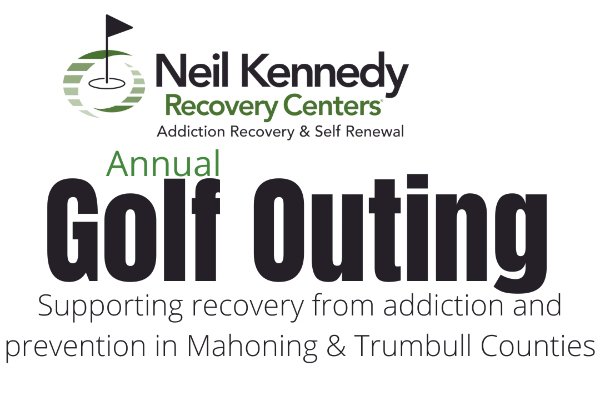 Purchase Individual Tickets(opens in a new tab)(opens in a new tab)
Golfers throughout Northeastern Ohio and Western Pennsylvania are invited to participate in the Annual NKRC Golf Classic, Friday, June 24, 2022, at The Youngstown Country Club.
For 75 years, the Neil Kennedy Recovery Centers have helped people in our community restore lives shattered by substance abuse. Treatment works, and because it does, many people have hope for a better tomorrow. Proceeds will benefit Neil Kennedy Recovery Centers' treatment programs including the Dick Riley Fellowship Hall.
Prizes to be awarded to male and female golfers based on their skill and accuracy.
(Non-handicap, Amateur only, U.S.G.A Rules)
DATE: JUNE 24, 2022
TIME: 8:00AM - 1:00PM
LOCATION: Youngstown Country Club, 1402 Country Club Dr, Youngstown, OH 44505
REGISTRATION FEES:
INDIVIDUAL | $150 (Lunch Included)
LUNCH | $40
Purchase Individual Tickets(opens in a new tab)(opens in a new tab)
(opens in a new tab)
EVENT SCHEDULE:
8:00AM - Registration, Breakfast, & Range Opens
9:00AM - Shotgun Start
LUNCH - After 18 Holes of Golf
PLATINIUM SPONSOR | $2,500(opens in a new tab)
The Business Journal ad recognition
Passes for 8 golfers + 8 lunches
Sign recognition at the awards presentation
Sponsor signage on the green
Continental breakfast

(opens in a new tab)
GOLD SPONSOR | $1,000 (opens in a new tab)
The Business Journal ad recognition
Passes for 4 golfers + 4 lunches
Sign recognition at the awards presentation
Sponsor signage on the green
Continental breakfast
SILVER SPONSOR | $500 (opens in a new tab)
The Business Journal ad recognition
Passes for 2 golfers + 2 lunches
Sign recognition at the awards presentation
Sponsor signage on the green
Continental breakfast
BRONZE SPONSOR | $ 250(opens in a new tab)
The Business Journal ad recognition
Sign recognition at the awards presentation
Sponsor signage on the green
Continental breakfast

(opens in a new tab)
TEE SPONSOR | $100 (opens in a new tab)
For questions about this event, including volunteering and sponsorship, contact:
Amy Metz
amy.metz@gatewayrehab.org
412-604-8900, EXT. 1230