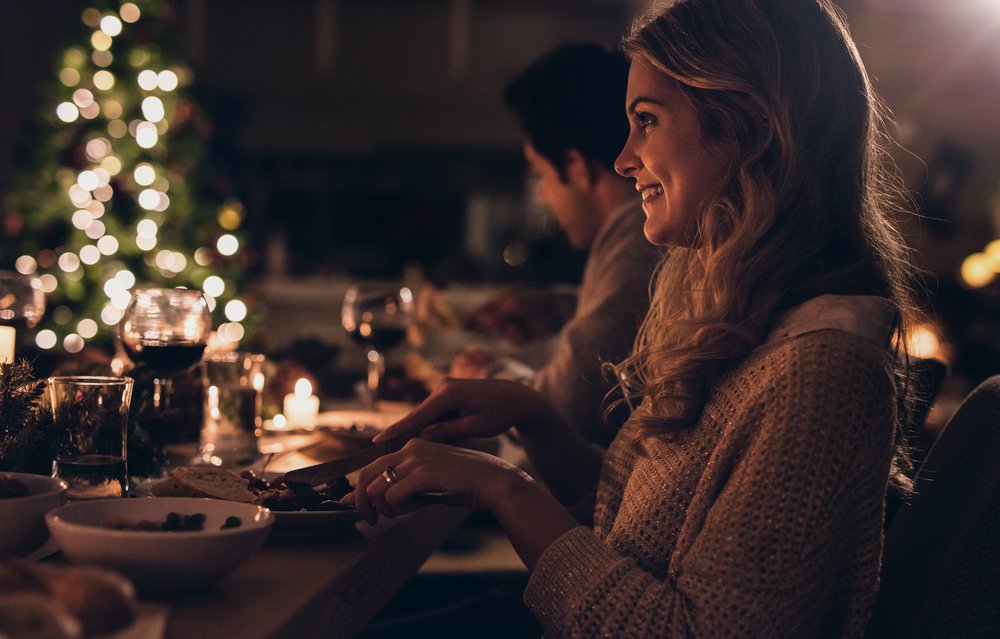 The holidays can be a very fun, cheerful time to spend with family and friends. But, for someone in recovery, it can be very challenging. Thanksgiving gatherings often come as a package deal with alcohol. Not only is the presence of substances a problem, but many stressors can surround the family holiday, creating triggers for those in recovery.
While the upcoming festivities may feel like a test of your sobriety, it should still be a time for you to celebrate and practice gratitude. That's why we've outlined 5 possible hiccups in the holiday season that might trigger you, and how you can handle them while maintaining your recovery.
Alcohol Being Present

At most holiday gatherings, you can bet that there is going to be alcohol there. Along with the turkey, the wine or sparkling hard cider is probably a staple of their tradition. But, there are plenty of things you can do to not be blindsided by the presence of alcohol. Here are some ideas:

Set boundaries - If you know the people who are throwing the get-together, set clear boundaries with them. Let them know what you do and don't feel comfortable around, and ask if they can work with you to have an enjoyable, yet responsible evening.
Bring a sober friend - Bring a sober buddy with you so you can both have each other's back throughout the night. It can feel less alienating to be sober at a party when you're not the only one who isn't drinking. You can also lend each other support if one of you starts to feel uneasy around people who are drinking.
Bring your own drink - Bring your own non-alcoholic beverage to sip on, in case the only non-alcoholic beverage your host has to offer is water. This way, people won't keep offering you drinks as you'll already have one in hand. Instead of having to explain your situation, you can just say, "I've already got one, thanks."

Family Drama

This holiday is a time for families to come together and enjoy each other's company. But, with family gatherings, come resurfacing of familial issues and potential for conflict or bickering. Family trauma can easily be a trigger for many people in recovery, especially if their family was not supportive.

It's also important to note that families themselves have to recover from having a loved one who suffered an addiction, and your recoveries may not be in the same place. They may still harbor negative feelings from the past or want to bring up issues from when you were using. Many things could go wrong when a whole family gets together, despite whether it's for a celebration or family vacation.

This kind of stress can make you feel the urge to relapse, so here are some things to keep in mind as you manage it:

Bring a sober friend - Bringing a sober buddy has more than one benefit. Not only will they help you to stay sober, but bringing a neutral party will make your family less inclined to start any arguments in front of the company.
Put your recovery first - Know that your recovery is the most important thing. If conversations are getting heated and you are feeling overwhelmed or triggered, don't feel pressured to stay. It is perfectly fine to take a break and walk outside - or leave - if you feel like your sobriety is at risk.

Being with family can put you on edge, but always remember that your sobriety comes first. No matter what happens, as long as you are prepared and prioritize your well-being, you'll make it through the gathering successfully.

Spending Thanksgiving Alone

If you've decided to forego this year's family gathering entirely, or your family isn't in the picture, you might choose to spend the holiday alone. While this can be a sound choice to avoid risky situations, being alone is also a pretty big risk.

One of the biggest triggers for relapse is boredom. On a day that is meant for celebration, you may be tempted by feelings of loneliness or boredom to have a drink or use a substance. If you are newly sober and find yourself alone on the holiday, try some of these things to combat your feelings:

Pick up the phone - Just because you are physically by yourself, it doesn't mean you are alone. You can video chat your family or friends at their gathering to feel included in the festivities from the safety of your home, or you can call a fellow friend in recovery and chat with them for support.
Don't stay in - If you won't be able to stay occupied in your house, get out of it! If the weather is nice, you can take a walk and get a nice change of scenery. Or, you can take yourself out for a meal or go see a movie at the theater.
Volunteer - While Thanksgiving is a time for sharing thanks with your loved ones, it's also a time of giving back to others who have less to be grateful for. A great way to stay busy is to volunteer at your local shelter and have a fulfilling holiday.

Even if you are spending the holiday on your own, you should never feel alone. If you reach out to your support system or find fulfilling things to do, you can enjoy your holiday in peace, and maybe even find a new tradition.

Or...Hosting Thanksgiving

Perhaps you've decided to take matters into your own hands and host your own sober Thanksgiving. Or, maybe you were always the go-to hub for holiday celebrations before your recovery and it's falling on you again this year. Hosting a holiday can come with a lot of added stress, some of which can be especially triggering for someone in recovery. The best way to reduce stress when planning your holiday is to be prepared. Some things you can do to reduce your stress on this holiday include:

Ask for help - Trying to handle everything on your own is an invitation for unwanted stress. Get your friends and family to help you with the planning, decorating, and cooking. Those who are close to you and support your recovery will understand how important it is to avoid stressful situations, and they'll be glad to help.
Prepare, prepare, prepare - Don't leave anything until the last minute. Plan everything ahead of time and try to make your dishes a day or two in advance. The less rushing you have to do on the day of, the less stressed out you will be.
Make it a potluck - A perfect opportunity to cut down on the work left for you? Ask your guests to bring dishes of their own! Make your Thanksgiving dinner into a potluck in which your guests can each bring a dish or dessert. You can coordinate with everyone on what they're bringing ahead of time so you aren't missing anything.

As long as you prepare for your gathering and enlist help from your support system, you can still host a great Thanksgiving while maintaining serenity and sobriety.

Holiday Spending

Not only will you be likely to spend money on the Thanksgiving soiree you're planning, or the dish you're bringing to someone else's home, but Thanksgiving is merely the beginning of the holiday season.

With Thanksgiving comes preparation for the upcoming holidays that often require gifts. Events like Black Friday encourage people to hit the stores and get good deals on Christmas presents, decorations, and more. Spending a lot of money at once can be stressful for anyone, especially someone who is newly sober. Before you panic about how you're going to be able to afford everything for your first sober Christmas, try these alternatives:

Make your gift - Some gifts don't need to be bought at all. You can give a creative, thoughtful gift without spending any money. You can craft a sentimental scrapbook of memories for your loved one, or use any of your special talents to create something special for the person you're gifting.
Offer up your services - Instead of material possessions, maybe you can offer up a hand. Ask your parents if they need extra help around the house or some landscaping done, or see if your friend needs some handiwork done on their vehicle. The options are endless when it comes to ways you can help out, free of charge.
Embrace the true holiday spirit - While presents are a great part of the holiday, the true purpose of the holidays is quality time and appreciation. Be present with your loved ones and tell them how much you care for them. Offering up your time, love, and affection is more than enough of a gift to the people who love and support you.
Thanksgiving, and the holidays in general, can be a difficult time for someone in recovery. This time that's meant for cheer can often bring stress and triggers. But, if you are prepared for the unexpected, and have a good support system, you can make it through the holiday season while maintaining your sobriety. If you or a loved one are suffering from addiction this season, Neil Kennedy Recovery Centers can help you reach a sustainable recovery.
At Neil Kennedy Recovery Centers, we are dedicated to helping provide our patients with the resources and support they need to achieve a sustainable recovery. If you or a loved one are currently struggling with addiction, our high-quality, trained specialists can help you achieve your recovery goals. Schedule your first appointment with one of our recovery centers today or call (330) 744- 1181 for more information.